Description
YOUR ORDER WILL COME PRE-CUT TO FIT THE NECESSARY SIZE OF YOUR BIN THAT YOU SELECT, ALL OPTIONS ARE NON-SPLICED. IT WILL INCLUDE ALL NECESSARY HARDWARE, FLOOR PLANKS ,FLOOR FLASHING AND PARTHENON FLOOR SUPPORTS
Brocks Tri-Corr Floor Planks

With its innovative, strength-giving, modified "M" shaped profile, every BROCK TRI-CORR System floor plank measures 7 inches wide x 1.5 inches deep. Brock's exclusive TRI-CORR Floor profile adds a unique middle support leg to the floor plank to provide a third weight-bearing point. Other floors use only two. This ground breaking design gives tremendous strength to Brock's floor both for between supports and for transferring the weight load from the plank to the floor support. Planks are roll-formed from high-tensile, galvanized steel.
Bin Wall Flashing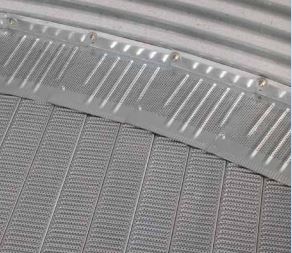 Galvanized steel flashing at the bin sidewall is perforated to allow the maximum airflow. At the sidewall, the flashing is formed to match the wall's corrugation for a positive seal that also helps prevent grain loss.
Parthenon Grain Bin Floor Support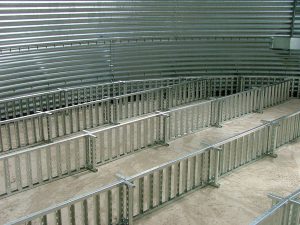 The innovative Brock PARTHENON Support System is designed specifically for use with Brock's TRI-CORR Aeration Flooring. It offers superior load bearing capacity complementing the strength of the TRI-CORR Floor. Brock's PARTHENON Supports are available to provide 13 3/4-inch floor heights for grain drying and aeration. The low PARTHENON Support has enough floor clearance to allow for 10-inch diameter unloading systems.
Quick and easy to install, the PARTHENON System requires only half the usual number of support rows, plus it reduces the number of supports needed by two-thirds. PARTHENON Supports use a non-staggered installation and easily lock together with an included interlock system to eliminate movement. The support's design helps to compensate for uneven concrete flooring. Aerodynamic design of the support's built-in vertical column aids efficient airflow in tunnels and near fans.
For more info on Brocks floor visit Brock Grain Bin Floor
Or for Brock Floor Parts visit Grain Supply Floor Parts