Description
COMES STANDARD WITH HEAVY 8 GAUGE GALVANIZED BODY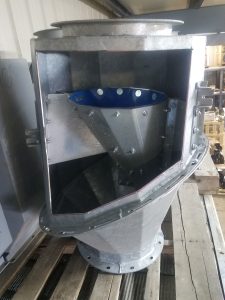 DBAR Adjustable Cushion Box has changed the way grain handling equipment is installed and utilized. Typically, located on top of grain bins coming off bucket elevators. The DBAR was designed to reduce and eliminate grain damage in situations where it's most critical. Its patented design includes an internal cone to collect grain and create a real cushion. In turn, the DBAR can be utilized when grain is running at full and partial capacities.
How the DBAR Grain Cushion Box Beats the Competition
No competing cushion box on the market can match the DBAR's versatility and quality — not to mention the ability to minimize grain damage. While most models only provide grain cushioning when they run at total capacity, the DBAR adjustable cushion box offers the same benefit for operating at reduced volumes. A standard cushion box cannot produce a sufficient cushion to protect the grain. You can use this option for a broader range of applications without concerns about material damage.
The DBAR has proven to exceed expectations in situations where flow retarders and "round style" cushion boxes were originally being used. In most instances, the use of a DBAR eliminates the need for flow retarders in the middle of spouts, making for convenient installation and access. No other cushion box on the market can outperform the DBAR in quality and versatility for your grain handling systems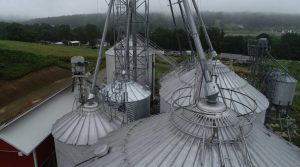 For more info Dbar Cushion Box
For other cushion boxes visit Grain Supply Cushion Box